Often considered as entertainment gadgets and a source of real fun, drones are increasingly becoming versatile in many industries for use in various applications including roof inspections.
As we all know, rooftops are highly vulnerable as they are exposed to all manner of weather conditions. As such, they often shatter or get damaged during harsh conditions leading to leakage. That's where Droneworxs Aerial Photography comes in!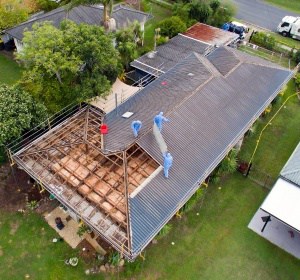 Regardless of your building type, our drone roof inspection services provide unmatched value to the roof maintenance industry. Using UAV technology, we conduct roof inspections in a way that is safe and without having to clamber around broken shingles and floppy tiles.
Think about the times when roof inspections were done by people who had to erect scaffolding or ladders to access the roof and visually identify the damaged part—a risky, cumbersome and inconveniencing process that could end up exacerbating existing problems. But with our unmanned drone technology, we've got you covered!
Truly, our drone roof inspection in Brisbane offers great advantages when it comes to reaching un-viewable areas that are completely off limits, inspecting tight angles and ensuring safety.
As a fully approved F.A.A operator, and with our in-house team of top roof inspection drone pilots in Australia, we have become the 'go-to' drone asset inspection expert in the region.
Our licensed drone pilots are perfect in drone flying and photography, hence renowned throughout Brisbane for breathtaking image and video production. They are ready to capture your footage.
Why Trust Droneworxs Aerial Photography?
Guaranteed safety
Experienced, vetted and licensed pilots
Flexible payment options
Fully insured pilots
Affordable prices
For our highly experienced aerial drone photography and videography experts with in-depth roof inspection know how, no job is too big or too small for our team. Our pilots boast varying photography styles and skill sets.
So what's your drone roof inspection need? We can guarantee well-planned, frequent, safe and efficient inspections to help you reduce both risks and future costs over your property's lifespan.
N/B: Keep in mind that early detection of any damage to your roof will ensure early rectification before the problem becomes worse. So why wait any longer? Contact us today for a complete roof inspection.