Drone technology is now more main stream and increasingly becoming a part of our everyday life. In fact, we are closer to having our Amazon deliveries done by drones.
Unlike the traditional industrial asset inspection techniques that are time-consuming, dangerous, and labour-intensive and often consuming a good portion of a utility's operating costs, drone asset inspection delivers efficiencies and saves lots of time.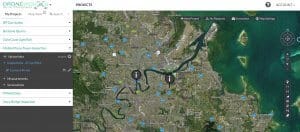 Australian regulations require critical infrastructure assets like cooling towers, wind turbines, solar fields, spillways, energy distribution networks, dams, sewerage treatment facilities, telecommunications towers, train lines, bridges and overpasses, monuments and buildings, pipelines and related utilities to be inspected on regular basis for safety and Standards compliance.
Droneworxs Aerial Photography is a leading drone asset inspection company that boasts a highly skilled team of drone operators that provide dependable remote asset inspection services for those critical, high or difficult-to-reach industrial assets.
Backed by our knowledgeable pilots and photographers, and commitment to quality service, we help our clients in Brisbane to save time,minimise downtime, cut costs and safely achieve their desired operational goals.
Why Choose Us?
Fully licensed and Insured pilots
Superior Service and Quality data
24/7 Ops and Rapid Response
Our pilots and photographers combine GPS unmanned aerial vehicles (UAV's) with active camera stabilisation and collision protection for asset inspection to ensure uncompromised safety, efficiency and data quality.
Our dedication to excellent customer service is our number one priority; and we work closely with you and your team to understand your needs, before deploying top-notch technology to deliver the best results.
Integrating 3D modeling, high-definition imaging, and digital thermography, we make drone photography services affordably accessible and convenient for our clients in Brisbane.
Combined with first-class intelligence, our technical engineers deliver accurate, real-time quantitative and qualitative data to facilitate faster decision-making, reduced repair, and maintenance costs while extending the useful life of your valued asset.
Remember, regular asset inspection helps prevent faults, asset deterioration, and service interruption. Early detection becomes crucial especially as the infrastructure ages.
Book your free consultation today and find out more on how asset inspections using fully insured, licensed and advanced drone controllers can cut costs, deliver efficiencies and save you time.