Brisbane's Leading Drone Aerial Photography Services
Have you been searching for the best in the business to take photos and/or video from above? Droneworxs Aerial Photography is Brisbane's go-to fully licensed commercial Drone aerial photography and video specialist, and for very good reason. We're backed by an extensive amount of experience with clients in many different industries, from asset inspection, mapping and surveying to sporting events and everything in between, and have built up a reputation for delivering nothing but outstanding shots time and time again.
Why choose us as your drone Aerial photography providers?
By utilising the latest technology and most sophisticated aircraft and camera systems, we deliver the highest quality and best value Drone aerial photography services available in Australia. Our specially designed Drones are capable of flying at altitudes of up to 120 meters (400 feet). We are able to get very close to the action, unlike helicopters or fixed wing aircraft. Our professional drones is specially designed to capture the perfect shot or video, and we can capture the highest resolution still and motion video images to meet all of your aerial photography and cinematography needs. Our latest Drones incorporate Real Time Kinematics (RTK) which is perfect for aerial survey inspections. We are CASA certified and fully insured, and we're ready to work with you to ensure you're 100% satisfied with the outcome.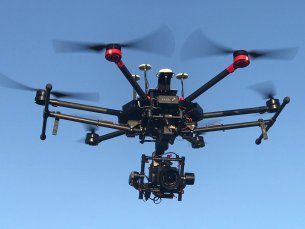 Droneworxs Image Resolution Just Got Better
From drone aerial inspection services to mine surveying and much more
Our Brisbane team is skilled at tackling a large spectrum of industries including the inspection of assets, aerial mapping, real estate aerial photography and more (outlined below). We believe that the remotely piloted aircraft movement will simplify lives, enhance safety, provide employment and address some of the worlds immediate concerns in a more efficient way. For a full list of industries that our team can handle please contact us on 0488 033 938 or via email.

The proof is in the pudding, and without further ado, here is our pudding! A collection of some works we've shot through our media wing.
Real estate photography and real estate video are critical to the success of any marketing campaign.  Real estate aerial photography gives the opportunity to better showcase a property, thereby maximising its value to the potential buyer.
Drones or a UAV have many purposes but their aerial view is especially useful for creating aerial photos and video that enable the buyer to gain the widest possible perspective on a property and its surrounds.
Aerial photography is not a new thing, previously relying on manned aircraft, which often proved cost prohibitive.  An aerial photography drone provides a cost-effective, affordable solution, ensuring maximum return on investment.
Though drone photography is not a new thing globally, in Australia drones have been employed for that primary purpose relatively recently.  Quality aerial drone photography not only relies on a skilled pilot, but also a talented real estate photographer.  We offer both!
Our latest state-of-the-art Quad Copter photography drone offers the highest level of stability in Australia, creating a wide selection of hot shots for the perfect aerial photo!
In the area of aerial photography Brisbane is a market of fast growing needs.  We provide practical and flexible options to suit those needs, not only meeting your expectations, but exceeding them!
We are an organisation committed to a quality finished product with a professional level of service to ensure that any requirement you have is achieved to the highest of standards.
The use of an aerial drone extends to other areas as well.  Our drone services include, and extend to:
Drone Aerial Photography

Create the quintessential campaign for commercial and residential real estate property. Showcase not only the property, but also importantly the immediate neighbourhood, location & facilities. This enables prospective buyers to gain a better perspective of the proposition, saving your staff time by answering some critical questions prior to enquiry.
Drone Asset Inspection

Reduce the cost of asset inspection by removing the need for scaffolding or cherry-pickers, and conduct quick and efficient inspections
Roof Inspection Aerial

A safe and time-efficient alternative to scaling roofing, hiring specialist organisations for inspection purposes
Terms used by CASA (Civil Aviation Safety Authority) for drones:
UAV – Unmanned Aerial Vehicle
UAS – Unmanned Aircraft System
RPA – Remotely Piloted Aircraft
RPAS – Remotely Piloted Aircraft Systems
RPL – Recreational Pilot Licence
UOC – UAV Operator Certificate
ReOC – RPA operator's Certificate
RePL – Remote Pilot Licence
The UAV Australia industry is governed by CASA, and recommended that any paid RPA commercial work is completed by a certified ReOC operator.