Real estate videography is a business that has scaled heights and is doing exceptionally well for those already in it. UAVs can capture different angles of property, bringing out that appealing look to clients beyond the normal ground view that the eye can see. Real estate videographer Gold Coast are making an impact in marketing properties and Realty agents have generated more property sales using drones.
Initially, realty marketing agents had to hire helicopters to capture aerial footage. This, however, has been overtaken by the use of UAVs to serve the same purpose at minimal costs. Value addition of property has also resulted owing to high-quality 4K videos being captured.
Drones have been used to showcase to potential buyers high-quality well-detailed videos of commercial property, development sites, housing units, and large acreage in the Gold Coast region, most of whom have made well-informed purchase decisions.
The leading sales strategy in real estate is offering the best visual information. The more visual information buyers can see, the more Realty agents can sell. Capturing outstanding 360° HD aerial videos using the best drones in the market with gimbal 4K high definition cameras is a highway to real estate sales success.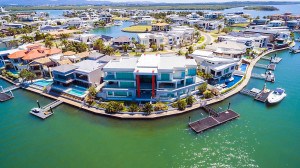 Prospective home buyers in the Gold Coast are particularly shopping for homes that offer value for money. A good Realty agent should be able to visually market a home's features such as well trimmed gardens, driveways, house balconies, parking area, swimming pool, access to the beach if it's nearby, playgrounds, roofing structure, among other features.
But there's more to this. Gold Coast region is a well-populated area with many public amenities. UAV videographers should also be able to capture and display the home surrounding areas such as access to hospitals, shopping centers, public roads and public transport, school proximity, and police stations for safety assurance.
Capturing Gold Coast's rich surrounding scenery such as rivers and trees, rainforests and mountain ranges and countryside landscapes is a plus in HD aerial video footage coverage.
Aspiring drone operators in the Gold Coast that are looking to venture into the drone videography business all stand a great chance of succeeding in this market and particularly in this region in Australia. Choosing the best drone to effectively function in the region and capture footage with exceptional quality is a puzzle to unravel.
There are so many drones in the market, cheap and expensive. So which one do you choose? How much should you budget for it? Ample research is needed on the best drones available for commercial use. Some suggestions would be DJI Phantom 3, Phantom 4, and Inspire 1. This, however, is not all. There are more great drones in the market which you can choose from.
Find out what works best with the Gold Coast environment. Study the region carefully and understand what clients really need in terms of quality. Match that with what the drones can offer, then make an informed purchase decision.
It's however important to note that a drone with exceptional features can produce poor videos in the hands of an untrained pilot. Untrained, unlicensed, and uninsured drone operators have been on the rise posing risks and lowing the quality of aerial videos.
Drone operators in the Gold Coast should get licensed by CASA before carrying out UAV videography. Realty agents looking for drone videography services should be wary of such and ensure that drone operators have complied with all regulations before contracting business with them. Check if they have a controller's certificate, UAV operator's certificate, and public liability insurance.
Gold Coast Australia is one of the greatest places with a vibrant real estate industry. More and more homes and properties are being developed, and Realty agents are looking for superior marketing of their properties for value addition and increased sales. It is paramount that they contract services from the best aerial UAV videographers in the market.
Are you considering to venture into real estate drone videography in the Gold Coast? Good news! You can. Get a drone, get licensed with CASA, get on to business, and let your drone fly high. The sky is the limit.