Employing UAV mining inspection services has been the norm in the recent years. Most surveyors have come to terms with the ease that drones bring in inspecting mine sites, from time-saving to worker safety to minimized costs to a more accurate data collection process, UAVs have revolutionized the whole process.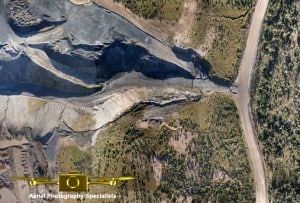 With a well-defined flight route, image data of a mine can be collected within a short period of time as compared to the time taken to deploy inspection personnel to crisscross through a site and gather information.
Mining operations have been significantly affected by the drop in mineral prices in Australia leading mine operators seeking for alternative means to increase productivity and minimize costs while ensuring worker safety. This they do amidst regulating the effect of mine exploration on the environment.
UAVs come with axis gimbals for camera stabilization, GPS assistance, and obstacle detection to avoid collisions, making them a treasure to mine operators in conducting mine site inspections. Surveyors are able to accurately capture 3D data from an aerial point of view hence significantly reducing the overall time taken to source accurate data. This, in turn, enhances productivity.
Traditional data collection techniques initially took days or even weeks to accurately collect data. Not anymore! UAVs have brought a tremendous shift to this trend, reducing the working time to just a few working hours.
Interruptions encountered by surveyors while traversing through a pit using traditional data collecting tools is now completely eliminated. UAVs have enhanced worker safety by minimizing the time spent by workers on the mining sites.
Within a mining site, various activities and processes can be inspected using UAVs such as:
Dump and pit management inspection.
Monitoring surface stability.
Erosion detection.
Blast and drill management inspection.
Hydrology and Geology management inspection.
Environmental and heritage management inspection.
Water and drainage management inspection.
Ground water inflows thermal detection.
Pipeline leakage inspection and detection.
Mineral resource calculation.
Vegetation change tracking, among others.
After a flight, the captured images and clips can be edited using specialized software to create digital surface models, ortho mosaics, and 3D illustrations of the mine sites that can then be analyzed and interpreted.
This data can then be used by professionals to approximate distance, stockpile volumes, develop polygons, set up markers for identification, identify the underlying machinery, and make observations via a standard browser.
UAVs create opportunities to miners to keep track of movements of equipment, examine machinery within the sites, detect ground water inflow and overheating equipment, and carry out rescue operations in the event of tragedies.
It is important to keep in mind that commercial flying of UAVs in Australia is regulated by the Civil Aviation Safety Authority (CASA) and anyone wishing to fly a drone must first keep up with all the regulations by first being registered with this government body, undertake a flight test, and acquire a drone license before making any UAV flights.
Needless to say, UAVs have taken over in mine site inspections. The reduced costs, minimal data collection time, enhanced worker safety, and accurate data collected are all factors that ease the burden on surveyors' shoulders making mining inspection easier than would have ever been imagined.