First we have to define a drone.  A drone is a remotely guided unmanned aircraft or ship that can map-readunconventionally without human control or beyond line of sight.  The level of mapping information by no means before imagined is because of today's mixture of GPS, software, high resolution cameras and reasonably priced airborne devices.  Meaning, you should acquire the best hardware and updated software.  Aerial drones are perfect for mapping.  Drones can put together precise flights which is perfect for near-ground mapping.  Drone aerial mapping is probably the most economical way to get in the air to generate great maps compared to the old conventional method.
Importance of Aerial Mapping for Surveying and Construction
Drones can provide accurate data easily, quickly and cheaply for construction application.  Using humans for surveying a flat map, they have to literally cut down trees and use a bulldozer to flatten the field before than can get the data needed.  This will make the whole method risky, time consuming and expensive.  Compared to using a drone you can get the accurate dimensions in creating the flat map.  The whole method is safe, time bound and cost efficient which translates to more profit for any kind of business.  Drones are fully computerized with smart tools for quick exact data acquisition that will allow you to take educated and targeted action.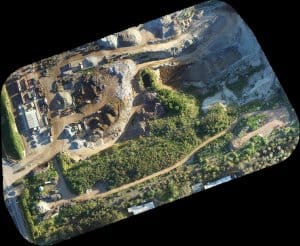 Drone aerial mapping is also useful for the construction industry.  For example, a business is located and based far from its' project site.  A drone aerial mapping device is very useful.  It can provide a 3D map of the location and the building construction as well.  They can monitor the progress from land preparation up to when it is finished.  Drones can provide over lays of the progress in stages of the construction.  Meaning, they can keep tabs of the progress and track their assets without them being physically present in the job site.
Different Applications for Drone Aerial Mapping
You won't believe how many applications are there for aerial drone mapping.  Some of which are listed below.
Transport Planning
Oil and Gas Exploration
Archaeology
Urban Planning
Flood Modelling
Pollution Modelling
Forest Management and Planning
Mapping and Cartography
Cellular Network Planning
Volumetric
Coastline Management
Precision Agriculture
Surveying and Mapping of Earthquakes
Surveying and mapping of Plane Crashes
Photogrammetric
Remote Sensing
Mapping of Industrial zones
Mapping Coastal Areas
In a Nutshell-How Does 3D Aerial Drone Mapping Work?
Ready, set, drone.  It is a simple three-step workflow which is fully automated.  Plan, fly and process.  The drone computes the flight plan it will cover after selecting the site you want to map.  The onboard software will robotically capture all the exact photos and geo-tags where each one is taken via the GPS while in flight.  The drone has a safety protection called return to land.  Take off and landing is automatic.  Afterwards the amazing 3D processing software makes these photos into a snappy and high resolution map.  You can regularly keep and repeat your flights to evaluate your progression and over lay this data across periods of time.
Details-How Does 3D Aerial Drone Mapping Work?
Essentially you need the basic tools, the best hardware and the latest software available in the market.  Experts recommend the DJI Phantom series for drones including the latest fold up drone-Mavic Pro.  For Cameras, these are the following models Canon-S110, SX260, Sony-QX1, DSC-RX100 A7R, A7, A7S, NEX-5R, NEX-5T, A5100 and Panasonic-GH3.  To create 3D models or drone aerial mapping, a camera is installed on the drone and generally point perpendicularly towards the ground.  To generate 3D models of monuments or statues, the camera is mounted parallel on the drone using photogrammetry.  The product of photogrammetry is a distinctive map, a drawing, a drawing of some actual world entity or a land mass.  The science of building measurements from photographs is called Photogrammetry.  For apps or software's, experts recommend Pix4Dmapper Mesh-DJI Special Edition-photos are instantly transformed to 3D models, preview, edit and optimize models using this app.  With this app; you should be able to calculate lines, surfaces, make fly through videos and export the full 3D model in video format.