What is the best way to inspect rooftops? Of course, roof inspection can sometimes become a daunting task particularly if done manually when the roof has solar panels and is wide. But hey,why suffer when drone technology can make the process as easy as ABC…
Want to have a roof inspection in Brisbane? Droneworxs Aerial Photography's aerial inspection services employ stable, easy to fly drones that safely get close to the roof, capturing live videos and high-quality images that can be saved and shared.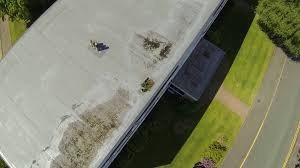 From Brisbane, Gold Coast, to the Sunshine Coast, our drone roof inspection solutions deliver high-definition footage of buildings and structures where the traditional techniques like cherry pickers, access towers, and scaffold may not be safe, viable or cost-effective.
Using the most sophisticated unmanned aircraft, we expose any part of the roof that needs to be inspected. Our drone pilots fly close to the area of focus, and into the most difficult positions, giving you results that matter.
Our aerial survey and inspection services involve Vertical Take Off and Landing (VTOL) fully fitted with high-resolution cameras.
Yes, we've got you covered! If enhancing the safety of your home or business is important to you, Droneworxs Aerial Photography's remote roof inspection services can help you reduce the risks.
Fitted with hi-res cameras, our drones capture smooth images and videos that can easily reveal cracks, faults or damage from a distance. Our equipment can capture various types of photos including panorama and 3D photogrammetry.
Our drone roof inspections cover the following:
Parapet Inspections
Gutters
Flat rooftops
Skylights
Lead flashing
Pointing
Windows
Droneworxs Aerial Photography drone inspections deliver fast response times, and emergency call-outs. As a CASA licensed and fully insured business with well-skilled drone pilots, we can fly to within feet of your structure, safely delivering HD photos and videos on memory sticks.
We use the latest UAV technology to deliver HD digital footage and close-up videos of your entire roof coverage, allowing surveyors and technicians to see signs of damage in the most hidden areas.
We are the trusted roof inspection expert in Brisbane. Whether you want a routine inspection or a rooftop inspection on request, Droneworxs Aerial Photography is the company to turn to.
Contact us today and make ladders, scaffolds, expensive, and those polluting, noisy motoriSed lifts a thing of the past.