We are living in a digital age. It comes as no surprise then that the real estate industry marketing has transitioned to the web and onto mobile devices. This new development gives real estate companies the ability to market real properties through the display of beautiful photos and videos.
Quality video and photos will improve the research experience for potential property buyers as well as give them more information on the properties.
How Do Real Estate Businesses Use Drone Photography?
Highlight proximity to important locations. An advantage of drone photos is their ability to effortlessly show just how accessible a property is to important places in the property's locality. If the property is within walking distance to important locations such as schools, fuel stations, grocery shops, eateries and other important amenities, drone photographs is a compelling way to highlight this.
With the help of drones, you can show the route and the time it will take for the young ones to walk to and from school. You can also show the locations of essential amenities such as fuel station, restaurants, and shops. Lastly, you can use drone photos to highlight just how close the property is to outdoor attractions such as parks, rivers, lakes, and the ocean.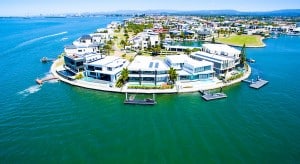 Present a holistic view of the property to buyers. UAV photography gives real estate professional the tools to create amazing aerial shots of the property being marketed. While it is necessary to also include traditional real estate photography in the portfolio, drone photos enable real estate professionals to give buyers a holistic view of the property.  With the help of drone photographs, you can better give the potential buyers a view of the home, the sheds, yards, garage, driveway and all other features of the property being sold. The entire layout of the property is showcased when you use drone shots and footage. Real estate is all about convincing buyers and aerial photography will help you do that. Drone photos real estate is a booming sector, why not get involved?
Present a view of the neighborhood. Another strength of using aerial photography is the ability to highlight the entire neighborhood. There is so much Google Maps can show even with the Street View feature. You can use drone videos to show a neighborhood with real people. The feel is different, more realistic and authentic.
Benefits of UAV Photos in Real Estate Marketing
UAV photography is a tool that will immensely benefit your real estate business in many ways.
Drone videos and photos show customers you are willing to go the extra mile. Aerial photos clearly show that you are ready to do more than required in meeting the customer's demands. Impressive and compelling UAV pictures and drone footage is just a way to attract more customers.
Drone videos and photos show customers exactly what they are buying. With drone footage, you can highlight the structure of the house, and show clients there is no damage to the roofs.
Impressive UAV footage and photographs set you apart from the crowd. Impressive drone footage stands out. This will attract more views and ultimately more sales.
Drone videos and photos influence selling price of a property. Studies have shown that drone photos improve the selling price of the listings. According to Autel Robotics, a leading drones company, properties with sharpest photos sell above the list price, over 40 percent of the time. The same study, as reported by Autel Robotics, showed that property with price listing of $200,000 to $1,000,000 sold for as much as $3,400 to $11,200 higher than the listed prices when professional photographs of the properties were available.
A few decades ago, if you wanted aerial shots of properties, you had to spend thousands of dollars getting a helicopter or small plane pilot to fly over the property. With the accessibility of commercial drones today, all everyone can easily acquire the services of a certified drone operator at a small fee. With the help of drone photography and videos, real estate professional can attract more customers by giving them the opportunity to make better-informed decisions.