Over the course of the past decades, we have witnessed the emergence of mining aerial surveying.The aerial surveying and mapping phenomenon has changed our approachof mining operation and exploration.
Uses of Drones
Drones, also known as unmanned aerial vehicles or UAV for short, are simply flying vehicles that are piloted remotely or through the use of preprogrammed information. As such, a drone can be pre-programmed to fly over a terrain using predetermined coordinates and directions. They have a huge advantage over manned aircraft since manned aircraft are expensive and not suitable for regular airborne photogrammetry since the flying is not as consistent as pre-programmed drones.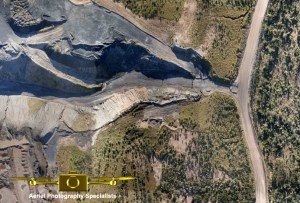 With the current level of drone technology, the use of drone photogrammetry has proven to be an amazing way to measure stockpile volume, to perform blast fragmentation, and also to create pit maps. This is particularly true of using data collected by drones to monitor both stockpile volume and to pit map. Another avenue where drones shine is in the creation of three-dimensional maps of mining areas. It is safe to say that the spatial information gathered by drones is one of the best and the most economical way to digitally create topographic maps, orthorectified georeferenced imagery, and three-dimensional terrain models. In addition, the images collected by these aerial vehicles prove extremely useful when it comes to the production of digital elevation models (DEMs) through automated processing.
Drones can fly over terrain equipped with cameras and other sensors and collect data remotely and quickly.  It comes as no surprise that so many mining companies are adopting the use of drones for geospatial data collection. With the advent of high definition cameras, drones can capture high-resolution images that can be used in the creation of highly accurate, point clouds #D terrain models and orthophotos. Apart from affordability and the procuring of accurate information, drones also help safeguard the safety of employees working underground through the real-time provision of information on what is happening in real time.
Drones do not just take traditional RGB images but also useLiDAR technology to gather information. For the successful application of both traditional aerial photogrammetry and technology which makes use of LiDAR technology, you need an experienced and qualified aerial survey firm that offers fast delivery time, the needed amount of ground support from your mining survey team and favorable weather conditions.
In addition, the data collected in real time by drones enables mining company to avoid putting workers in unsafe topographies.
Questions to Ask Before Jumping Into a Partnership with a Drone Data Service Provider
Before jumping right into this new disruptive technology called drones, it is important that you do your research. Drones are still a relatively new technology in the field of mining aerial surveying. Moreover,with all new technologies, there are pitfalls. You have to ensure the services provided by drone data solutions firms are what you need. As you may have had already guessed, not all drone service providers are created equally, so it is important to do some research before deciding to work for any one drone solutions firm. You also have to remember that there is a very sharp learning curve involved.
Things to consider range from pricing to software compatibility with your existing system to even the technical capabilities of the drone service provider firm you wish to work with. Questions to ask include
What is the pricing like? Will the venture prove to be acost-effective one?
Does the drone service providing company need internet connection when processing data?
Are the analytics and the software used compatibility with the existing system of your mining firm existing system?
Do all the components used for the aerial surveying task come from one company (including the UAV, sensor, analytics, and software)?
What technology do they offer? For example,a company such as YellowScan utilizes compact, lightweight unmanned LiDAR drone systems.