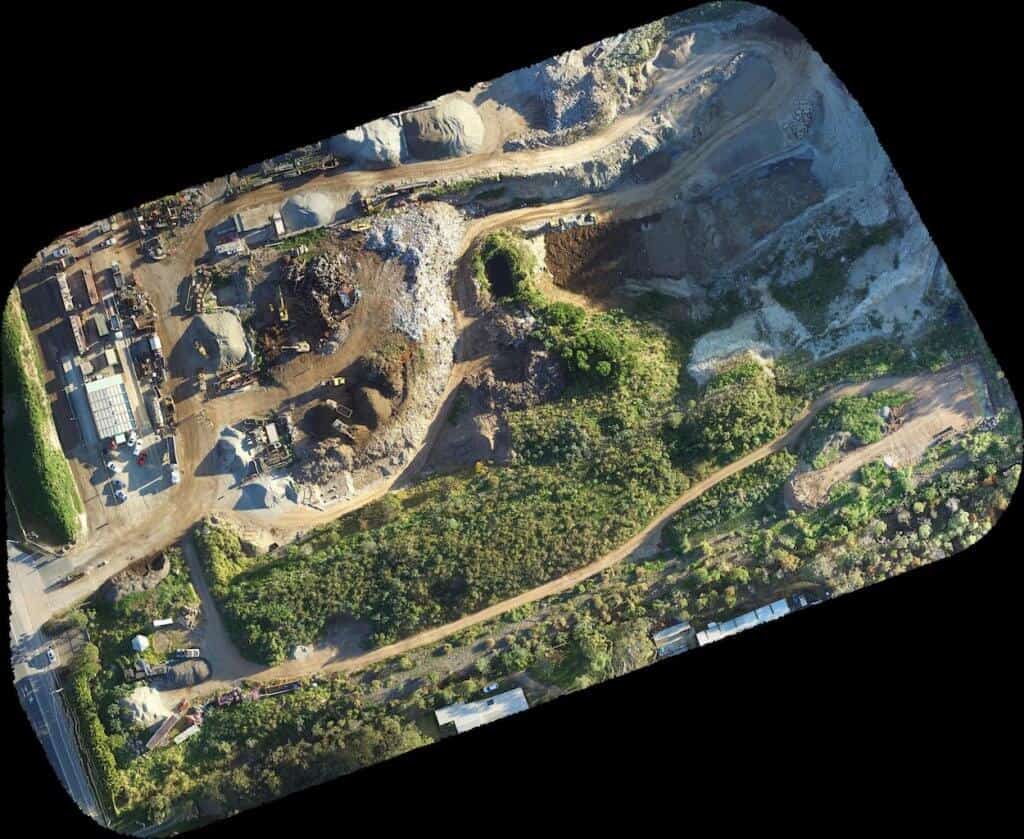 Here is a new 3d Map of a Quarry that I photographed. Quarry managers are able to access this map and calculate volumes of stockpiles. Click on the map to open and navigate the photograph.
Drones are now the most economical way to create useful and accurate maps in a short time, which are highly reliable. So, what is a drone and how can a drone help in mapping? We have all the answers for you, so keep reading!
In case you are looking for more information on a drone, you need to know that a drone is an unmanned aircraft which has the ability to navigate autonomously. It doesn't need any kind of human control which can be guided remotely, even beyond a line of sight. Drones are used by almost all industries for capturing top quality images and videos of areas which are difficult to reach or dangerous.
Let Your Drone Work For You:
One of the most significant contributions of drones is in aerial mapping. They are capable of making repeated and accurate flights for the purpose of near ground mapping. Today, with the best combination of cheap flying devices and high resolution cameras, aerial mapping is affordable, convenient and highly accurate. There are several providers in Australia which provide mapping services with the use of drones.
How Drones Can Help:
With the help of aerial mapping services by drones, users now have access to the best quality and high definition topographic maps. Customers love the high definition, real time maps with actionable data delivered in such a timely manner. In the earlier days, when drones were not functional, aerial mapping was an extremely costly and time consuming affair. Customers had to wait for several weeks to get the survey results which were still not as per their satisfaction. Traditional methods of aerial mapping can never match the modern technology and high definition images captured by drones.
Drones help by offering high resolution captures of terrain measurements, which are real with great precision and accuracy. These images help in adding value to various utilities and help them in planning out structural changes, construction details, agricultural decisions and other utilities. The drone aerial mapping is used in several industries and for various purposes – some top reasons include the following:
Construction – Aerial mapping is needed by civil engineers, excavation purposes, for scouting/development, for roadways construction and repair and bridges.
Erosion Control – Aerial mapping by drones help in detailed encroachment analysis and vegetation analysis among other things.
Agriculture, Farmers, Ranchers – Such maps help in analyzing vegetation, in better cattle management and also wildlife management
When you are using drones for the purpose of aerial mapping, there are a number of things which you need to remember –
Automated Mapping – Drones are all about automated mapping technology with use of a few control points which are also known as coordinates. The drone is designed to fly completely autonomously, tracking a calculated flying path according to a particular altitude. A lot depends on the drone equipment. Drones have an amazing ability to click infrared as well as high-resolution colored images which can be used for a variety of purposes. It is said, that one captured image overlaps 80% of its previous image to the front and almost 60% to side. This helps in covering the entire terrain or area later, when the images are finally sorted to be used.
Approach – Drone aerial mapping uses three pieces of modern technology which includes an UAV with a technologically advanced camera, an image processing software and also an autopilot software. When using drones for mapping, organizations should never try to piece them together as it will be a big risk and running the drone shall be quite a tricky task. Though, it is an easy task to assemble a drone, it is always good to get it professionally assembled. Surveyors should consider the best and safest approach so that the working is safe, reliable and highly effective.
Process – Mapping by drones is slightly different from traditional mapping methods because drones are completely unmanned vehicles which are remotely controlled. Thus, you need to have all the right equipment in place and properly assembled so that you are able to capture best images. The task involves planning of flight and later on reviewing the output and assembling it for the convenience of the users. The entire process is smooth and doesn't involve much costs or time.
Drones play an essential role in rural and urban development. This is a fast and accurate technology which is now being increasingly used by different industries all over the world.
Benefits of Using Drones:
Savings: One of the key benefits of drones is their amazing cost savings – these are known to cost almost half the amount of traditional mapping methods. Drones are super quick and are able to reduce man-hours by a number of hours. Suppose, you need to map a irregular, hilly and a treacherous terrain – can you imagine the number of hours it shall take to map the area using traditional methods? In case of drones, there is an estimation of 60% time saving.  Research reveals that to survey any 10 acre plot in any conventional method, it takes approximately two full days. However, when drones are used for the purpose, it will take up around 6 hours which includes the time for processing, flight and also set-up.
Accuracy: Drone aerial mapping is the most trusted and dependable mapping service offered by providers to customers. Images or videos captured are in detail and accurate which help in detailed analysis of terrains and locations. The outputs of drones are of the best quality, provide clear images which help in precise analysis of data. Customers are more persuaded with images provided by drones than by any other methods.
Safety: When drones are used for aerial mapping, there are no security concerns or risks of human lives involved. Earlier, when helicopters or other methods were used, human life was always at risk, which was a major limitation of mapping in the past.
Today, drones play a significant role in mapping hilly areas, forests, water bodies, agricultural lands, highways, railway infrastructure and much more. Their use has widened the scope of detailed and accurate mapping which has made estimation and analysis a much easier job.